Información de interrupciones en el calendario de radioterapia con Mosaiq
Palabras clave:
Gestión de interrupciones, Sistema de información oncológico, Calendario de radioterapia
Resumen
Se presenta una metodología para obtener automáticamente  de una base de datos de un sistema de información  oncológica la información necesaria para realizar un  seguimiento de interrupciones en los tratamientos de  radioterapia, de una manera rápida y fiable.
Citas
Rew DA, Wilson GD. Cell production rates in human tissues and tumours and their significance. Part II: clinical data. Eur J Surg Oncol. 2000;26(4):405-17. doi:10.1053/EJSO.1999.0907
Harari PM, Fowler JF. Idealized versus realized overall treatment times. Int J Radiat Oncol Biol Phys. 1994;29(1):209-11. doi:10.1016/0360-3016(94)90249-6
Guirado Llorente D, Brosed Serreta A. Fundamentos de Física Médica, Vol. 8. ADI; 2016. htpp://www.auladoc.com
James NJ, Robertson G, Squire CJ, et al. A national audit of radiotherapy in head and neck cancer. Clin Oncol. 2003;15(2):41-6. doi:10.1053/clon.2002.0198
James ND, Williams M V., Summers ET, Jones K, Cottier B. The management of interruptions to radiotherapy in head and neck cancer: an audit of the effectiveness of national guidelines. Clin Oncol (R Coll Radiol). 2008;20(8):599-605. doi:10.1016/J.CLON.2008.05.003
Hendry JH, Bentzen SM, Dale RG, et al. A modelled comparison of the effects of using different ways to compensate for missed treatment days in radiotherapy. Clin Oncol (R Coll Radiol). 1996;8(5):297-307. doi:10.1016/S0936-6555(05)80715-0
The Royal College of Radiologists. The timely delivery of radical radiotherapy: guidelines for the management of unscheduled treatment interruptions, fourth edition. 2019;(January):1-39. www.rcr.ac.uk
Bese NS, Hendry J, Jeremic B. Effects of Prolongation of Overall Treatment Time Due To Unplanned Interruptions During Radiotherapy of Different Tumor Sites and Practical Methods for Compensation. Int J Radiat Oncol. 2007;68(3):654-61. doi:10.1016/J.IJROBP.2007.03.010
Hendry JH, Roberts SA, Slevin NJ, Keane TJ, Barton MB, Ågren-Crongvist A. Influence of radiotherapy treatment time on control of laryngeal cancer: comparisons between centres in Manchester, UK and Toronto, Canada. Radiother Oncol. 1994;31(1):14-22. doi:10.1016/0167-8140(94)90409-X
Van den Bogaert W, Van der Leest A, Rijnders A, Delaere P, Thames H, van der Schueren E. Does tumor control decrease by prolonging overall treatment time or interrupting treatment in laryngeal cancer? Radiother Oncol. 1995;36(3):177-82. doi:10.1016/0167-8140(95)01597-A
Delaloye JF, Coucke PA, Pampallona S, De Grandi P. Effect of total treatment time on event-free survival in carcinoma of the cervix. Gynecol Oncol. 1996;60(1):42-8. doi:10.1006/GYNO.1996.0009
Machtay M, Hsu C, Komaki R, et al. Effect of overall treatment time on outcomes after concurrent chemoradiation for locally advanced non-small-cell lung carcinoma: Analysis of the Radiation Therapy Oncology Group (RTOG) experience. Int J Radiat Oncol Biol Phys. 2005;63(3):667-71. doi:10.1016/J.IJROBP.2005.03.037
Stuschke M, Pöttgen C. Localized small-cell lung cancer: which type of thoracic radiotherapy and which time schedule. Lung Cancer. 2004;45 Suppl 2(SUPPL. 2). doi:10.1016/J.LUNGCAN.2004.07.981
Nishimura Y, Ono K, Tsutsui K, et al. Esophageal cancer treated with radiotherapy: impact of total treatment time and fractionation. Int J Radiat Oncol Biol Phys. 1994;30(5):1099-105. doi:10.1016/0360-3016(94)90315-8
DelCharco JO, Bolek TW, McCollough WM, et al. Medulloblastoma: time-dose relationship based on a 30-year review. Int J Radiat Oncol Biol Phys. 1998;42(1):147-54. doi:10.1016/S0360-3016(98)00197-7
Ben-Josef E, Moughan J, Ajani JA, et al. Impact of overall treatment time on survival and local control in patients with anal cancer: A pooled data analysis of radiation therapy oncology group trials 87-04 and 98-11. J Clin Oncol. 2010;28(34):5061-6. doi:10.1200/JCO.2010.29.1351
de la Vega JM, Ríos B, del Río JT, Guerrero R, Castillo I, Guirado D. Management of interruptions to fractionated radiotherapy treatments: Four and a half years of experience. Phys Medica. 2016;32(12):1551-8. doi:10.1016/j.ejmp.2016.11.108
European Council Directive 2013/59/Euratom on basic safety standards for protection against the dangers arising from exposure to ionising radiation and repealing Directives 89/618/Euratom, 90/641/Euratom, 96/29/Euratom, 97/43/Euratom and 2003/122/Euratom. Published online 2014:57:1–73.
Elekta (Propietary/Confidential). Mosaiq 2.64 External - Tables Data Dictionary. Published online 2017.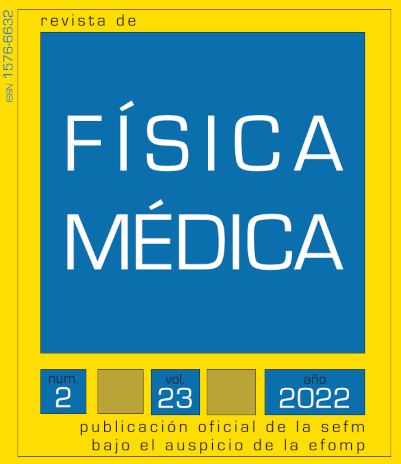 Descargas
Cómo citar
Barbés Fernández, B. ., & Hernández Solano, L. del C. (2022). Información de interrupciones en el calendario de radioterapia con Mosaiq. Revista De Física Médica, 23(2), 39–43. https://doi.org/10.37004/sefm/2022.23.2.003